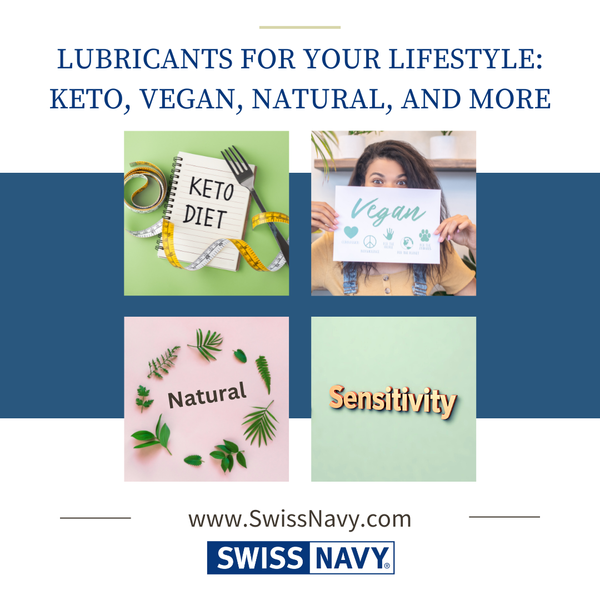 Nowadays there are a lot of options that can go into a person's lifestyle choices.
Many decisions are based on attitudes, tastes, and values. But health seems to be the primary concern when considering choices. 
So, much like decisions throughout other parts of your personal lifestyle, lubricants should also be viewed as how they can be beneficial to your overall health goals. 
Luckily, intimate lubes have come a long way in providing a wide variety of options to people wanting to factor their lifestyle habits into their sexual wellness. Let's take a look at a few options. 
 
Lube for KETO 
Keto is short for ketogenic, which is a very low carbohydrate, high-fat diet that shares many similarities with Atkins and other low-carb diets.  
Since sugar is a carbohydrate, anyone following a Keto diet is asked to avoid it. And this can be tricky for a person looking for a delicious edible lubricant without sugar as a sweetener. 
Lube Recommended for KETO: 
4 in 1 Playful Flavors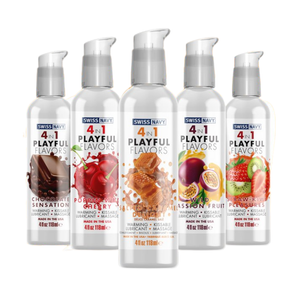 Unlike most flavored lubricants, 4 in 1 Playful Flavors is sweetened with Acesulfame Potassium, which is also called Ace-K. 
Ace-K is a keto-friendly sugar alternative with very few carbs. It's an artificial sweetener that is 200 times sweeter than sugar and contains only 0.5 grams of net carbs per half-gram serving. 
Ace-K is a great alternative to sugar and those people who are wishing to avoid carbs. 
 
Lube for Vegans 
A vegan lifestyle means not eating any food derived from animals. 
Lube Recommended for Vegans: 
Swiss Navy Premium Silicone Lubricant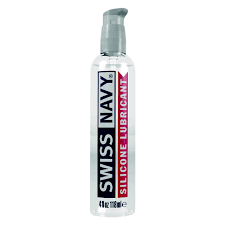 This luxurious silicone lubricant is created with three ingredients, all of which are vegan-friendly. 
Cyclopentasiloxane, which is a vegan synthetic polymer made out of two natural elements, silicon, and oxygen. Dimethicone, which is a substance that comes from silicone and is a natural compound present in sand, sandstone, granite, and quartz. And Vitamin E, which is made only by plants. 
 
Natural Lube 
The term natural refers to existing in or caused by nature, not made by humankind. 
Lube Recommended for Natural Preferences: 
Swiss Navy All-Natural Water-based Lubricant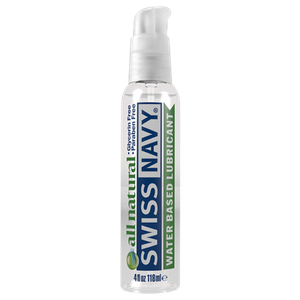 This all-natural lube formula was designed specifically for people with sensitive skin and is pH balanced for female sexual health. It contains a natural ingredient called carrageenan, which provides a silky-smooth feel compared to other natural lubricants. 
Most intimate lubricant manufacturers use it as a thickening agent, but research published in the U.S. National Library of Medicine found carrageenan to be a powerful inhibitor of certain sexually transmitted human papillomavirus (HPV) types, which are causally associated with the development of cervical cancer.  
This natural formulation contains deionized water, propanediol, xylitol, gluconolactone, sodium benzoate, and carrageenan. That's it. There are no parabens, glycerins, or petroleum by-products. 
Use of health-positive ingredients is just one way our Swiss Navy brand is helping people enjoy better sexual health. 
 
Limited Ingredient Lube 
Some intimate lubricants may contain ingredients that can be reactive to people with sensitivities. 
Many people choose natural and –free lubricants to avoid exposure to unnecessary ingredients. The best health-conscious lubricants are those that naturally mimic our own body fluids. 
Lube Recommended for Skin Sensitivities: 
Swiss Navy Paraben and Glycerin Free Lubricant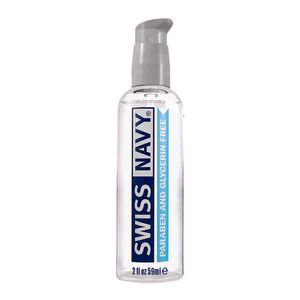 This Paraben and Glycerin Free Lubricant is specifically formulated to provide silky-smooth, non-sticky lubrication without the addition of paraben, glycerin, and petroleum-based products. 
This formula was created to help mimic the body's natural moisture and maintain vaginal pH balance, and is free from fragrance, petrochemicals, and parabens. It is designed to nourish bodies and help promote natural lubrication. 
 
Make Positive Lifestyle Choices 
Your lifestyle choices, including which intimate lubricant is best for you, is a personal and conscious decision. There are a lot of options available and when making your choices, remember to consider what specific types of sexual intimacy you will be enjoying.  
Please remember to check back often as new blogs are posted with lots of helpful information and wellness tips addressing your own intimate concerns. 
 
© 2022 Dr. Sunny Rodgers. All Rights Reserved.