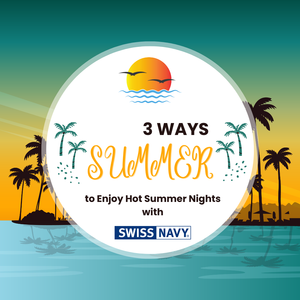 Oh, those hot summer nights! 
If you ask people about their favorite memories, most will involve recollections of hot summer evenings spent with family and friends—and more often than not, many of those memories bring back frisky romps and young love. 
Warm summer weather makes evenings sultry and magical. The weather begs for sensuality and discovering new love—and new erogenous zones! 
Hot summer nights are not just for dreams. Make them a special occasion with yourself and your lover! 
Let's look at 5 ways you can fully enjoy the summer heat. 
#1 – Feel the Heat! 
Humans have always relied on one another for warmth, both physical and emotional. And according to research, 57 percent of people like it hotter when it comes to their climate, with 80 percent of consumers preferring hot and spicy foods. Yes, the love of heat is here to stay! 
Are you ready to bring some intimate warmth to your love life? 
Check out Swiss Navy's Warming Lubricant. A quality warming lubricant can do more than just add slickness to your body's most sensitive areas. It can boost arousal by increasing blood flow, which helps add extra tingles and sensations to even the most subtle types of sex play. 
#2 – Cool it Down 
Obviously, we need to recognize those times when you're ready to cool things down. Swiss Navy can help when you're ready to chill. 
Meet Cooling Peppermint Water-based Flavored Lubricant! This summer treat is a deliciously minty, sugar-free and paraben-free lube that can add a cooling sensation to oral play. 
Peppermint is a safe herb that can fire up TRPM8 in a person's cold-sensing nerves and make your mouth instantly feel cool. TRPM8 is part of a human's sensory system and has been deemed "The Cold and Menthol Receptor" by the National Center for Biotechnology Information. 
Peppermint oil contains menthol, which has a cooling effect and has been found to help bring your body's core temperature down. Swiss Navy's Cooling Peppermint Lube can be your summer superpower for keeping cool! 
#3 – Celebrate Hot & Cold 
Can't decide on your summer temperature play? Swiss Navy has you covered! 
Check out INFUSE Arousal Gels for Couples. This set contains two male and female gels created for couples who want to experience new or heightened sensations. 
For the best of both worlds, INFUSE is pH balanced and provides her with warming/cooling sensations to promote sensitivity, while helping boost his endurance and maximizing tactile pleasure. Both long-lasting gel formulas are silky with a smooth, velvety feel.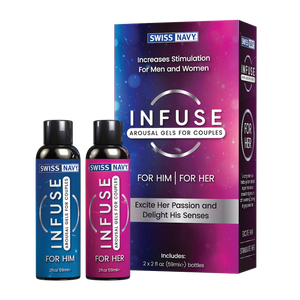 Hers is a comprehensive invigorating gel formulated to promote sexual arousal and pleasure with warming/cooling, tingling sensations. 
His is formulated with the rare herb Butea Superba, designed to maximize pleasure while increasing stamina and overall performance. 
And there are proven benefits to using arousal gels. According to research, study participants admitted to increased "sexual arousal, lubrication, orgasm, and satisfaction". 
Enjoy Your Hot Summer Nights 
Wherever your summer adventures take you, Swiss Navy can help enhance those summertime feels. 
Whether you're looking to heat things up—or cool them down—we've got you covered with the best in warming and cooling lubricants and sensational arousal gels. 
Let's make your summer delightfully memorable! 
---
Swiss Navy is Here to Help 
Looking for more ways to add some fun to your love life? 
Check out some of Swiss Navy's blogs! 
Please remember to check back often as new blogs are posted with lots of helpful information and wellness tips addressing your own and your customers' intimate concerns.
© 2022 Dr. Sunny Rodgers. All Rights Reserved.