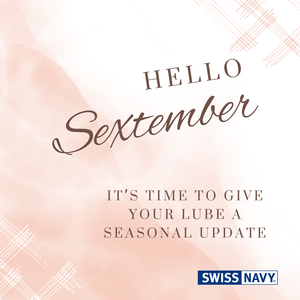 Sextember is HERE! 
September serves as Sexual Health Awareness Month, National Self-Care Awareness Month, National Pleasure Your Mate Month, and Healthy Aging Month—all of which reminds us of the importance of intimate wellness in our lives. Bottom line, Naughty November has nothing on Sexy September. 
How did September become soooooo Sexy? 
September has summer coming to an end, kids going back to school, festive Fall months ahead, and an overall feel of celebration. 
It could be the air turning crisp, the falling leaves, or all those pumpkins that are starting to appear, but September makes us want to snuggle with our lover. This urge for intimate closeness is so prevalent that research has shown that more babies are conceived in Autumn. 
Seasonal Shift 
Seasonally, life shifts and with it, your preferences. Think about it. Soup just tastes better when the weather is chilly. While a salad feels refreshing during summer months. 
This is the time of year when snow tires are brought out of hiding, rain gutters are cleared out and prepared for the rain ahead, and your tastebuds start leaning toward, yes, pumpkin-flavored everything. 
Something to keep in mind—just as there are "maintenance" tasks that are done seasonally, you should consider give your personal lubricants a seasonal update as well. Especially since lubricants do have expiration dates and best practices for storage that are not always adhered to. 
Giving Your Lube a Seasonal Update 
Are you ready to really lean into Sextember? Updating your intimate routine and accoutrements is a great place to start! 
Here are 3 things to consider for updating YOUR intimate lubricant for Fall: 
First, consider changing your type of lubricant. Water-based lubes are usually "lighter" feeling formulas. Perhaps trying a "heavier" silicone lube can help provide extra nourishment and cushion for your dry skin. Consider Swiss Navy's Premium Silicone Lubricant. 
Yes, a "Fall" flavor lubricant should be introduced to your love life! And here, you don't need to go full on pumpkin. Consider flavors that remind you of the season, such as caramel covered apples. Check out 4-in-1 Playful Flavors in Salted Caramel. 
Fall means fewer swimming pools and more soaking tubs. Perhaps Now Is the Time to invest in a quality lubricant that can be used for a wet and steamy frolic. Silicone is actually waterproof, so it helps provide longer lasting lubrication in wet environments. (Keep in mind it is slippery however, so be careful.) I would suggest Desire Silicone Intimate Lubricant. 
Embrace the Season! 
Scientists report Fall is the Season of Sex and emotions experienced during each season have important roles in our relationships. Fall makes us want to get cozy with our lover as the days get shorter and shorter, increasing our evenings and thereby our evening activities. 
Give a new lubricant a try. Embrace the romance of the season. And find ways to enjoy all that Autumn means to you and your love life!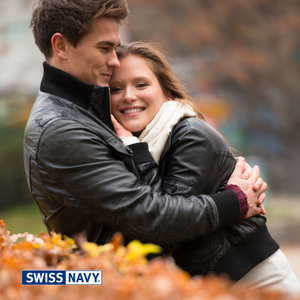 Remember, Swiss Navy is Always Here to Help 
Ready to learn more about personal lubricants?
Lube newbies can check out A Beginner's Guide to Lube. 
For Sensual Arousal products that inspire, take a look at The Secret Benefits of Arousal Potions. 
And to find out how lube improves love lives, Lube Really Does Improve Your Love Life may be helpful. 
Please remember to check back often as new blogs are posted with lots of helpful information and wellness tips addressing intimate concerns. 
© 2022 Dr. Sunny Rodgers. All Rights Reserved.